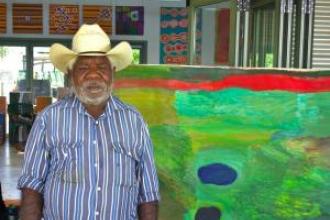 Wednesday, August 7, 2013
WA intestacy laws came into full effect on Wednesday 7th August 2013. This means that the Public Trustee no longer has automatic control of the estates of Aboriginal people without making a will.
The Aboriginal Affairs Planning Authority Amendment Bill 2012 repeals part IV of the Aboriginal Affairs Planning Authority Act 1972, achieving parity at law for Aboriginal people who die intestate by bringing them under the same scheme of distributing intestate estates as non-Aboriginals.
Any artist who passed or passes away after the 7th of August 2013 will now be dealt with under the new system, and the estate can be administered without involving the Public Trustee. Anyone who passed away before this date is still subject to the previous law which vests all control over the estate in the Public Trustee.
Image: Edgar Pike, with Paji Honeychilds' painting, waiting for payout since 2008 from the Public Trustee.