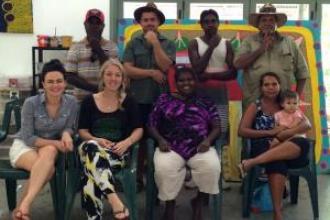 After 3 years with Mangkaja Arts Resource Agency Manager, Philippa Tabone, has made the difficult decision to move on. We thank Pippa for her dedication and vision for moving Mangkaja forward and we would like to take this opportunity to wish her the best of luck in her new endeavours. Also after 3 years with Mangkaja our Gallery Coordinator, Kat Ferguson, moved on for new adventures down south with her family. We would like to thank Kat for her commitment over the last 3 years and wish her well for her new family adventures.
We would like to welcome Belinda Cook as the new Manager of MARA. Belinda joins Mangkaja with not only formal education in arts and arts management but also practical experience. For the last 3 years Belinda has been working at Frankston Art Centre and prior to that she has worked with Tjanpi Desert Weavers, Papunya Tula Artists Pty. Ltd and Ngaanyatjarra Pitjantjatjara Yankunytjatjara (NPY) Women's Council. Belinda is also a keen photographer both professional and socially.


We would also like to welcome Wes Maselli as the new Arts Coordinator. Wes joins Mangkaja with extensive experience as an art coordinator in Ngaanyatjarra and Pitjatjatjarra Lands of Central Australia. After a time away from the industry to pursue his own studies in art, Wes is very excited to be back on country, working at Mangkaja and living at Fitzroy Crossing, places both strong in history and culture. 


We would also like to welcome Lynley Nargoodah as Gallery Assistant. Lynley has close family connections with Mangkaja and her knowledge of culture and country makes her a great asset to the Mangkaja team.

Mangkaja is excited to have Belinda, Wes and Lynley as part of the team so please join us in welcoming them. We would also like to take this opportunity to introduce all staff and directors.
Manager – Belinda Cook
Arts Co-ordinator – Wes Maselli
Operations Co-ordinator – Sarah Mack
Administration/Gallery Assistant – Lynley Nargoodah
Cultural Liason Officer/Receptionist – Jennifer Dickens
Studio Technician – Johnny Nargoodah
Studio Assistants – Jeremy May, Anthony Nunju
Directors this year are as follows:
Chair Person – Terry Murray
Vice Chair – Annette Kogolo
Treasurer – Eva Nargoodah
Directors: Jack Macale, Jeremy May, Lynley Nargoodah, Sandy Cox, Phyllis Waye
Special Advisors: Mervyn Street, June Davis, Tommy May, George Brooking, Tom Lawford
Contact person: Jennifer Dickens
Please contact us if you have any enquiries. We look forward to speaking with you.
PHOTO: Back Row L-R: Jeremy May, Wes Maselli, Anthony Nunju, Johnny Nargoodah

Front Row L-R: Sarah Mack, Belinda Cook, Jennifer Dickens, Lynley Nargoodah, Sioux Nargoodah