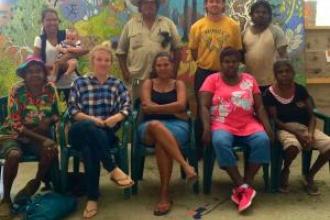 Friday, September 1, 2017
Studio Coordinator
Mangkaja Arts, Fitzroy Crossing, Western Australia
2 year contract, 10 month per year position
Salary package range $70,500 - $79,300 pro rata
Mangkaja Arts is a renowned Aboriginal owned and governed Art Centre located in Fitzroy Crossing, West Kimberley, WA. We seek an exceptional and qualified Studio Coordinator to support the ongoing success and development of artists from the five language groups in the Fitzroy Valley region. The Studio Coordinator is responsible for coordinating the artistic development and exhibition programs and also to assist in the delivery of our cultural program. The role is ideally suited to an experienced arts practitioner/teacher, with knowledge and experience of the Aboriginal arts industry and seeking a dynamic and challenging role in remote Western Australia. The role requires some gallery and sales experience and/or curatorial expertise.
For a full position description and selection criteria, please email manager@mangkaja.com
Applications close 13th November 2017
Start Date is flexible with an expected start in Feb 2018.