This is the front page....
Kuji Rosie Goodjie was born about 1935 near Nyirla, at Kulyayi waterhole, near Well 39 on the Canning Stock Route. She moved with other family members north along the Canning Stock Route towards the...
The continued success of Mangkaja Arts Resource Agency depends on the support of donors who recognise the importance of the work we are doing. Private donations enable us to improve and develop our...
After 3 years with Mangkaja Arts Resource Agency Manager, Philippa Tabone, has made the difficult decision to move on. We thank Pippa for her...
Mangkaja Arts is currently recruiting for the following position: Arts Coordinator Fitzroy Crossing, Western Australia Full time 2year...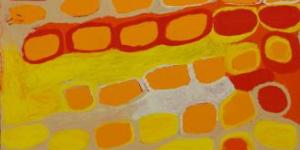 Mangkaja artists are renowned for their uninhibited style and lively use of colour, they paint images of country that share stories of culture and identity. Mangkaja Arts represents artists across...
"We are very proud to announce the first overseas solo exhibition for the exciting new talent...
09.04.14