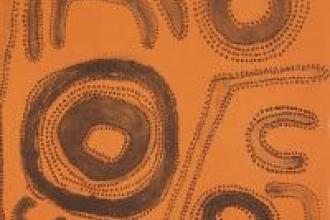 In 1994 when Gill Weaver from the Teenage Roadshow, visited Mangkaja Arts. He asked for suggestions for a place where Melbourne printmaker, Martin King, could run some workshops as part of the Roadshow program. Having recently renovated the Old Mangkaja workspace the timing was perfect. Martin arrived mid year after a three week workshop in Kalumburu and set up in Fitzroy Crossing for ten days of etching and lino printing.
The artists produced a wide variety of images in the first workshop and a strong working relationship developed with Martin King and the Australian Print Workshop in Melbourne. After subsequent workshops in Melbourne and Fitzroy Crossing a number of artists have continued to produce prints, most notably Ngarralja Tommy May, Janangoo Butcher Cherel (1920-2009), Mervyn Street, John Nargoodah and Pijaju Peter Skipper (c. 1929-2007).

In 2003, four Mangkaja artists Ngarralja Tommy May, Milinti Dorothy May, Nyuju Stumpy Brown (1924-2011) and Hitler Pamba took part in the Garma collaborative panel workshop, an etching project conducted by Basil Hall Editions at the Garma Festival. Eighty artists contributed individual etching plates to make up the collaborative panel.

Australian Print Workshop staff have returned several times to Fitzroy Crossing since their first visit in 1994 to conduct printmaking workshops with Aboriginal artists. The artists have explored the mediums of etching, linocut and lithography, consistently producing accomplished and innovative works. Several of the artists have also visited Melbourne to work at the Australian Print Workshop. The productive partnership now established between the Mangkaja Arts and the Australian Print Workshop promises to produce further works in the print medium by artists living in Fitzroy Crossing and surrounding communities.

Prints made by Fitzroy Crossing artists have been acquired for numerous private and public collections, including: the British Museum, National Gallery of Victoria, Arts Gallery of South Australia, Art Gallery of Western Australia and Queensland University of Technology.

Prints currently available are featured in the online gallery.