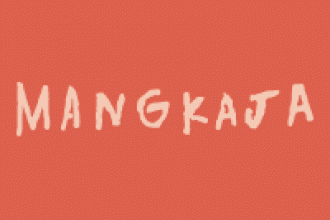 Twelve months since its conception, through a fortuitous chance encounter whilst attending last year's Desert Mob Symposium in Alice Springs, Mangkaja Arts Resource Agency, its artist's, and Reko Rennie have begun an exciting artistic exchange together. The two phased project has seen Rennie travel to the Kimberley for the first time during the month of September for the 'on country' workshop, which will be followed by an 'urban' workshop in Rennie's hometown of Melbourne, early in 2014. The project will facilitate a two way exchange between Rennie's urban Aboriginality and his contemporary artistic practices and some of the Kimberley's most exciting next generation artists, who through their artworks share both their connection to country and the strength of their culture.
The Reko Exchange has been joint funded by the Australia Council for the Arts and the Department of Culture and the Arts and has engaged artists in a range of contemporary mediums and technologies that have not previously been present at the art centre. The workshops will focus on the use of digital projection technologies both on country in the Kimberley and also in the city scape of Melbourne. Additionally the exchange will provide a platform for discussion to expand on the conceptual focuses of individual art works and the stories through which each artist shares.
Further to the use of new digital technologies the workshop has drawn on Rennie's graffiti upbringings and through the medium of spray paint the group has brought new life to a number of former cars within the region. Subsequently through this process the question of why we make art has been raised? and for who? Certainly an interesting concept for some the Kimberley artists, as we travelled through the rugged Kimberley surveying the landscape for fire laden wrecks on which to create works which may or may not be seen by anyone other than themselves.