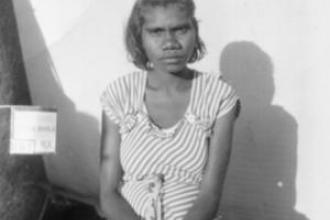 Saturday, February 28, 2015
The pigment sits tentatively, the marks of the brush lost in the softness of the touch of its tip on the paper. It was 1991 and this was the first painting that Munmarria Daisy Andrews made with artists' materials. The students at Karrayili Adult Education Centre were beginning to paint in earnest. They were making works for their first exhibition at a major city gallery and some were nervous. Munmarria was notably reticent. She wanted to know how to paint in her own way. She was daunted but determined to get it right.
To have arrived at this point with her spirit and determination in tact was an achievement of the first order. Mumnarriya was born c. 1935 at Cherrabun station at the creek near the homestead. Her father was working there in between bouts of rebellion when he would take his three wives and his children back into the desert, causing the police to follow and bring them back to the station. He had irreverence for the new restrictions of station life and bucked the system often.
Due to her father's lack of cooperation the young Munmarria and her family were taken to the government run station at Moola Bulla. In her words, she and her siblings were 'little wild kids' who followed their mothers around until they were old enough to go to school. Later she learnt about station chores: cleaning and cooking in return for tea, sugar, flour, tobacco, blankets and clothes. The image of her taken by anthropologist Norman Tindale that dates from her time at Moola Bulla, is redolent of her beauty and resolve.
She met her husband, Bunuba elder Adam Andrews (dec) when she was in her early twenties. It was an unusual match as she was a Walmajarri woman whose family hailed from the desert and he was Bunuba, from the river country to the north west of Fitzroy Crossing. As Munmarria said it did not go unnoticed, "My husband is Bunuba. People used to tease me and say, how did you come to love him? It's just love, young days love that's all!" It was an enduring love and partnership that forged a strong family of four boys and four girls.
Her life was punctuated by incidents that brought deep sadness. The discovery later in life that her mother had been moved from Moola Boola to an infirmary in Perth; the trip to the city to locate her grave; the loss of her husband, daughter and sister over a scant few months in 2002 and most recently the loss of one of her beloved granddaughters. She was not immune to the trials that many of her generation faced but she kept ahead of the blows and hardship, maintaining the lively spirit and fierce independence that she had inherited from her father.
Painting was not her only avenue of solace and strength. Singing was another. She spent innumerable hours recording songs for her country and teaching young people the songs and the ceremony. There are now some highly skilled dancers and cultural leaders who can attribute their status to her efforts. She was also a founding member of the Kimberley Language Resource Centre and Karrayili Adult Education Centre two key organisations of the Fitzroy Valley.
Munmarria continued to paint through Mangkaja Arts Resource Agency and she did find her painting style. She came to prominence in 1994 when her work titled Wet Time Lumpu Lumpu won the National Aboriginal Art Award. It was well-deserved recognition as she had approached painting with an intellectual rigour that, in less than four years, shaped her works into eloquent forceful images of country where her forebears had endured so much. She drew on the sadness of the stories from her brother, Boxer Yankarr about this endurance. In her words, 'when I paint I think of blood'. She became a supremely confident painter and the fierce independence that she maintained throughout her life is clear in her work and her words, 'I don't get ideas from anybody. I just get my own [ideas]. Only this one country I want to paint. I always go back to the same place.'
Munmarria painted the same place, a stunning stretch of ranges country along the northern edge of the Great Sandy Desert, repeatedly and analytically. She did not divert her attention. She painted it through the seasons: in flames, ashen, in soaking rains, with high key new green growth and on paper, canvas and in prints. She was adept at producing very large works including a backdrop for the opera Alcina. She was one of the artists who produced the iconic Ngurrara Canvases in support of her native title claim and artists at the Victorian Tapestry Workshop have translated her work into wool to hang in Australian Embassy in Tokyo.
Looking at these works now, they have taken on a new dimension. The sadness that she felt for her forebears as she worked is there but so too is the sadness of her absence. The marks she has made along with her words will continue to resonate through her landscapes and the same deep waves will continue to move through the seasons, within the minds of family and friends of whom there are so many.
Karen Dayman 2015